The Isolcell N2 ORS® Oxygen Sensor
Advanced technology aimed at achieving new goals.
We have developed a highly reliable measurement instrument.
The Isolcell N2 ORS® Oxygen Sensor is equipped with three individual sensors, supported by reciprocal measurement diagnostics with a triplicated architecture with majority redundancy. This means that the values measured are processed using a 2oo3 (two-out-of-three) voting design, thus providing a precise and unequivocal value and a high level of safety, as can be seen from the fact that even our oxygen sensors are IEC 61508:2010-certified with the significant reliability level of SIL-3.
Our oxygen sensor is now also VdS certified.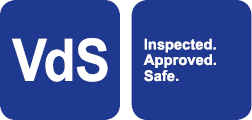 For more information about our products