Prevent fires with N2 OXYGEN REDUCTION SYSTEM®:
The active oxygen reduction fire protection system prevents the development or spreading of open fires by adding nitrogen to the atmosphere.
Until recently, the focus was to discover a fire as quickly as possible and to extinguish it effectively.
Technological progress, careful and meticulous studies during these decades made it possible to greatly reduce the risk of fires in general. However, a new method, based on the depletion of Oxygen with different n2 technologies, has opened completely new venues for us.
We are now able to create fully protected environments and to completely eliminate the fire hazard by changing the atmosphere within a building by allowing access to people at the same time.
It is a revolution that finally, after decades of refining and re-inventing fire extinguishing technology again and again, the same maybe obsolete in many cases. Thanks to a radical change of perspective, we now eliminate the possibility of a fire to get started instead of thinking about how to fight the fire.
N2 Oxygen Reduction System installation is proceeding and it will protect an High-bay warehouse 60 m long, 35 m wide and 44 m high.
N2 Oxygen Reduction System installation is proceeding and it will protect an High-bay warehouse 60 m long, 35 m wide and 44 m high.
"Fire Prevention", the better method.
All traditional fire fighting technologies or methods have the same problem in common, they are being used once the damage has occurred already. Whatever media is in use, foam, water mist, sprinklers, gas or water they are being activated or used after a fire has been detected. With the common and known methods fire is being fought only reactively. Often the damage caused by the extinguishing media is worse than the damage caused by the fire itself. Furthermore, there are many applications such as Data Centers, Server Rooms, Cold Stores, Paper Mills and many more where the usage of water or gas would be fatal in its consequence.
COMPLETELY ELIMINATING THE FIRE HAZARD AND SAFEGUARDING PEOPLE, BUILDINGS AND IT'S CONTENT IS POSSIBLE WITH ISOLCELL'S FIRE PROTECTION WITH OXYGEN REDUCTION SYSTEM.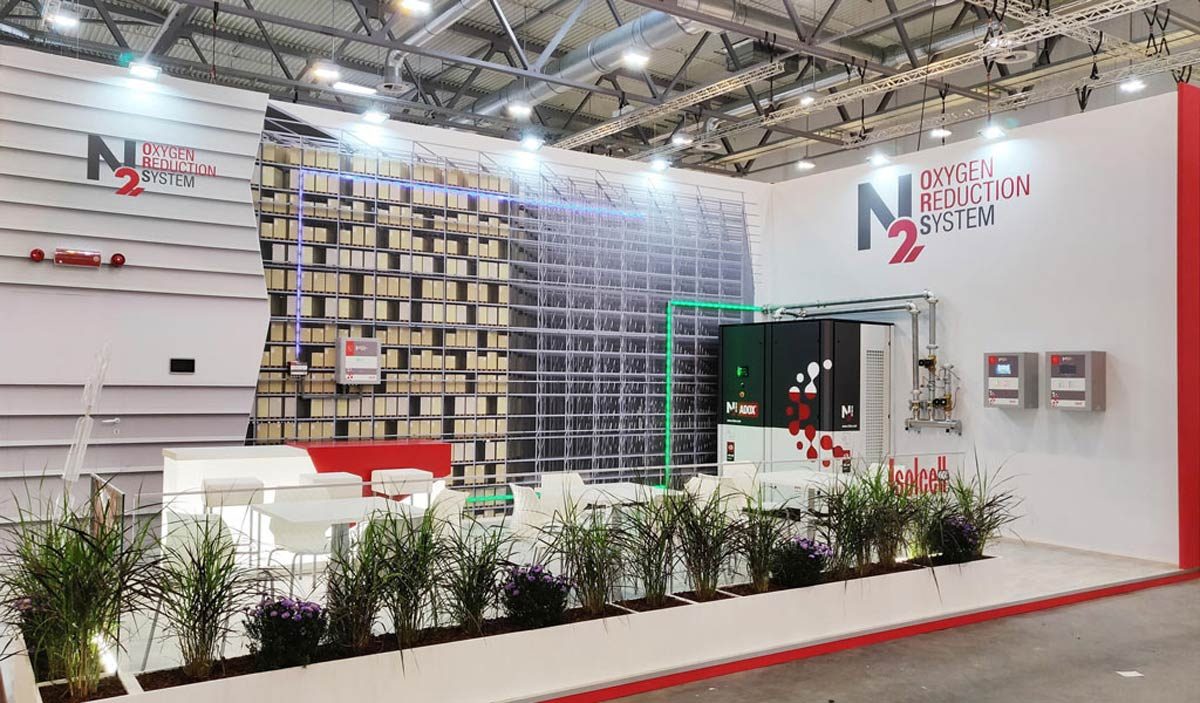 1
Oyxgen-reduced atmosphere
generator, ADOX®
VPSA technology SIL-3 IEC 61508
1 of 10
2
Control Indicating
Equipment (CIE), Master + Slave,
Redundancy features,
SIL-3 IEC 61508

2 of 10
3
Manifold with electrical
valves, based on ISOLCELL's
Virtual grid methodology

3 of 10
4
Steel Pipes for N2

4 of 10
5
N2 injection through
Steel Pipes and Steel
Nozzles
5 of 10
6
Oxygen Sensor,
Zirconium technology
6 of 10
7
Oxygen Sensor,
Optical technology
SIL-3 IEC 61508
7 of 10
8
ABS Pipes for
O2 analysis
8 of 10
9
Touchscreen Digital
Display (O2 level)
9 of 10
10
Alarm devices
10 of 10
For more informations contact us
Want to install our Fire Prevention System in your facility? Or just need more information? Feel free to get in touch with us and get a free quote!